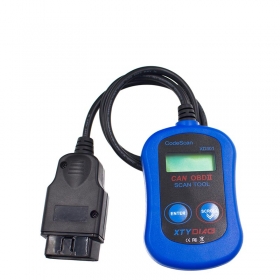 XTYDIAG XD301 OBD2 Engine Code Reader
XTYDIAG XD301 Descriptions:
1.The XTYDIAG XD301 code reader supports all OBD II protocols, including the newly released Controller Area Network (CAN) protocol. Though it is small, it is able to retrieve same information as large expensive scanners!
2.With CAN OBDII SCAN TOOL, you may quickly find out trouble causes (troubleshooter) of electronically controlled systems on your car, by simply connecting
3.With the 16 PIN diagnostic socket, via reading the trouble code (DTC) shown on XTYDIAG XD301, identifying, locating and checking out trouble causes with attached user's manual.
XTYDIAG XD301 Features:
1.Works on all 1996 and newer cars & trucks that are OBDII compliant (Including CAN)
2.Can read and clear fault codes can also be used to turn off the check engine light
3.Support multiple trouble code requests: generic codes, pending codes and manufacturer of custom code
4.Retrieves VIN (Vehicle Identification No.) on 2002 and newer vehicles that support 9 Mode
5.Easy to use with one plug-in; Highly reliable and accurate
6.Single plug, easy to use
7.Free CD-ROM covers 7,000 fault codes defined
8.Stand-alone unit,Safely communicates with the on-board computer
9.No batteries needed-powered via detachable OBDII cable
XTYDIAG XD301 Specifications:
Display: Backlit LCD, 2-line, 8 characters
Operating Temperature: -32 to 122
Storage Temperature: -4 to 158
Power: 10.0 to 15.5 Volts provided via vehicle battery
Dimensions: Length:113 mm
Width :74 mm
Height :21mm
Net Weight: 0.25Kg
Package includes:
1 x XTYDIAG XD301 Automobile diagnostic
1 x User Manual
24hour Online Customer Service:
E-mail:Autocardiag@gmail.com
Skype:Marshall.obd2
Whatsapp:86-13476108995
http://www.autocardiag.com/xtydiag-xd301-obd2-engine-code-reader-p-720.html