V4.94 Digiprog3 Digiprog III was the biggest welcomed OBD2 Odometer Correction Tool in the marketplace for its top quality, stable performance,universal car models coverage as well as cheap affordable price. And today,autocardiag.com official blog will share a V4.94 Digiprog III Digiprog 3 Odometer Correction Tool Customers Tested Ok Feedbacks  to help users better know about Digiprog 3.
Note : autocardiag.com V4.94 Digiprog3 was a full Set with cables and the package included ST01/02 and ST04 Adapter as well,but the price is cheapest affordable,now buy Digiprog III V4.94 Full Set only $179USD + DHL Shipping, see here : V4.94 Digiprog III Digiprog 3 For Sale.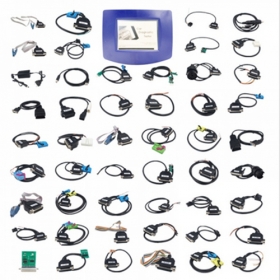 Autocardiag.com Customer's Tested 100% Working Feedbacks For DIGIPROG III Digiprog 3 V4.94 Odometer Correction Tool
Mercedes W251 R350 2010 OBD ok
no sync problems no can filter needed!
Mercedes Vito W638 2003 OBD ok
Mercedes B-Class W246 use direct in OBD ok
Mercedes w211 2003 read and Save cluster EEPROM via EEPROM / MCU ok
Digiprog do all Golf 4 without problem!!! And all golf 6 digiprog 3 clone work good for me till 2013 year
VW Caddy 2013 done throw menu Golf 6 2012>
VW Polo, Seat Ibiza 2007 Magneti Marelli Motorola ST48 by points OK
I have done Seat Leon 1M 2000 2002 and 2003 with digiprog3 V4.94 via OBDII no problem
T5 2004 dash & ECU via OBD -read? /write ok 10 seconds. ECU EDC16 read write ok 7 minutes
Sharan 2001 via OBD- read? /write ok
Skoda Octavia 1z 2011 OBD ok
Skoda Fabia 2009 OBD read? /write OK
Skoda Fabia 2010 OBD, read? /write OK after second try
Audi A6 2010 dash via OBD, it takes a while to find code but successfully do it
Audi TT 2002 obd2 n8 is ok work
Audi S3 2002 obd2 is ok work
Audi A3 2002 obd2 is ok work
Audi A6 2002 ok after some effort.
Audi A4 2007 OBD dash read write ok
Audi A4 8e b6 2004 OK in 2 minutes
Audi Q7 2007 via OBD work
Audi Q72012 by OBD work ok
My Digiprog 3 unit works on 2017 BMW I8! Good luck!
Nissan Navara, Pathfinder Motorola ST48 by points OK
Fiat Ducato 2014 OBD dash ok
Mitsubishi galant 2006 93C46 ok
Ford Mondeo 2010 Visteon dash with 9s12 read write ok via 4 wires on PCB
Peugeot 307 2002 —> Work Dash —> NEC (New ST59) BSI —> HC12
2014 Porsche Panamera by EEPROM 95640 work ok
2011 Vauxhalls Vivaro… 93c76…. All good… read and write
Opel Astra G 2001 OBD read? / write ok 10 seconds.
Opel Astra H 2006 – m35080 – work
So,if you are in the marketplace for a costive but effective OBD2 Mileages Correction Tools,then you can buy Digiprog III 4.94 a shot, this tool has been tested by many users,100% workable without any problems.
24hour Online Customer Service:
E-mail:Autocardiag@gmail.com
Skype:AutoDiag
Whatsapp:86-13667154167