New Generation of KTAG Master Version,called : KTAG 7.020 With Red PCB Released For Sale Now. Red KTAG 7.020 EU first batch has arrived and full in stock at autocardiag.com with cheap affordable price,and right now,you can buy newest Online EU Red KTAG 7.020 Master here : Red PCB KTAG V7.020 EU Master Version.
Red KTAG FW7.020 Ksuite 2.23 First Images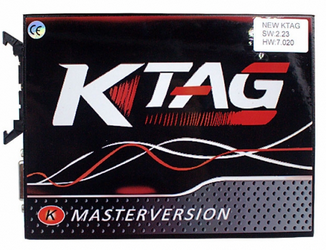 KTAG 7.020 PCB Handchecking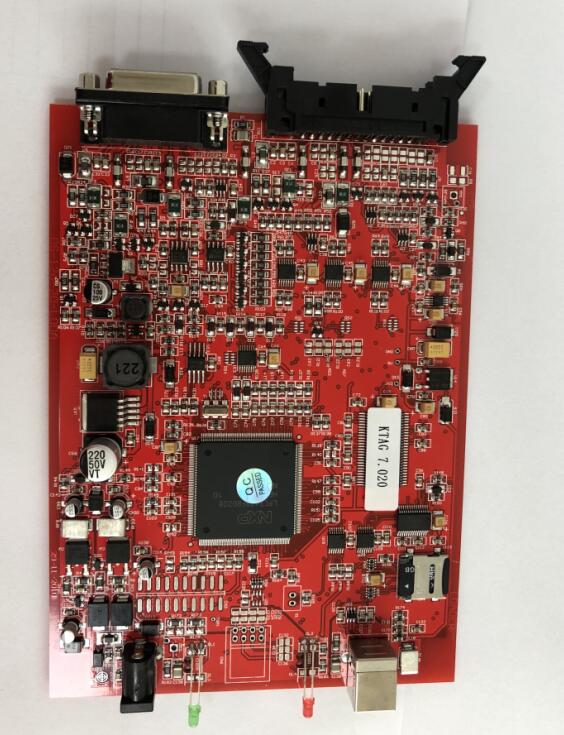 Autocardiag.com KTAG 7.020 Red PCB Full Components
1.  Murata NFE61PT472C1H9L
2.  8x WFs = Infineon, BCR112 NPN Digital Transistor
3.  7x 27E = ON Semiconductor NUP2105LT1G
4.  8x 6DW = NXP BC817,215 NPN Bipolar Transistor
5.  3x A6c = MMUN2113LT1G / MMUN2113LT3G
6.  2x K5B = BC807-25-7-F PNP Bipolar Transistor
Red EU KTAG 7.020 Master Pacakge Content
1 x KTAG 7.020 Main Unit
1 x 144300T 104
1 x 144300T 103
1 x 144300T 101
1 x 144300T 106
1 x 144300T 102
1 x 144300T 105
1 x 144300T 100
3 x Chips Inside
1 x Multi-Color Cable
1 x USB Cable
1 x Power Adapter
1 x CD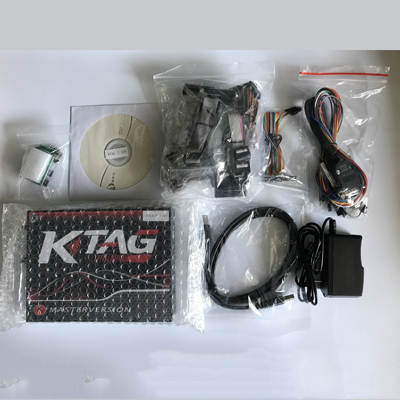 Comparison Between Green PCB KTAG 7.020 and Red KTAG 7.020
1. Different appearance : The Red KTAG 7.020 with new outer box design,more fashionable and appealling.
2. Different PCB Used : The Red PCB KTAG used best pcb by far ,more stable to use.
3.KTAG 7.020 Red PCB is a little expensive than Green PCB KTAG V7.020.
Just as we have seen,the different between these two ktag tools are mini,well,if have to make a choice between these two tools,i will strongly recommend you give newest red ktag 7.020 a shot,after all,it is the latest generation,represents new technology supporting and it was updated from blue ktag 7.020,and will never fail to you as well. But if you dont care appearance,then green pcb ktag will be a ideal choice too,after all,it has launched for ages,tested by many users with a good reputation and the price is cheap affordable too,see more at http://www.autocardiag.com/
Red KTAG V7.020 Master Version Highlights
1.Fashionable look and Perfect for Jtag, BDM and all the Boot application (tricore and ST10).
2.K-TAG 7.020 can work For Toyota Hilux kun26 and new added 100+ ECU types & supports new car models e.g. Toyota 76FXXX, PSA 17.4.4, Ford E83, VW 17.5.5 (1766), Mercedes-Benz 276 ECU, Toyota 76F, etc.
3.KTAG V7.020 add a cable with GPT Functions.
4.Supports online full protocols ,fully activated,without tokens limited.
5.Online Operation supporting,users don't need to disconnect internet .
6.Multi-Languages supported
7.Launched for ages,tested by many users,with many good reviews.
8.Best PCB With Murata filters
9.Top quality at cheap affordable price.
24hours customer service
E-mail:autocardiag@gmail.com
Skype:AutoDiag
Whatsapp:86-13667154167