Newest ODIS 4.23 For OKI Full Chip VAS5054A Bluetooth Released for ages and has been tested and confirmed stable to use and today,autocardiag.com official blog will share a VAS 5054A ODSI V4.23 User Guides to help users better using the latest software on VAS5054A ODIS 4.23.
VAS5054A ODIS V4.23 Specification
Latest Software : ODIS 4.23
Languages : Multi-languages
Operation System : Win 7
Supported Car Models : VW, AUDI, SKODA, SEAT, Bently and Lamborghini till 2016.
Software no need activation, can directly use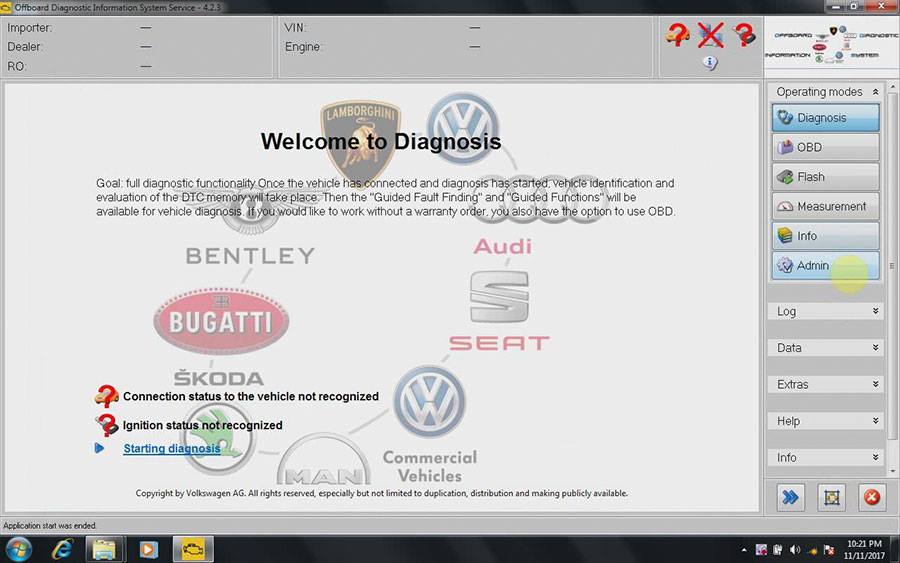 Blueooth VAS 5054A ODIS 4.23 With OKI Chip FAQs Guide
Q1 : Where to find free latest VAS 5054A ODIS 4.23 software download ?
A1 : Now autocardiag.com will share 4.23 software with activated guide right here : How to activate 2017 VAS 5054A v4.2.3 and Free download
Q2 : Will ODIS V4.23 Work well on VAS5054A Head ?
A2 : Yeah,the software has been tested by many users,works fine with odis service 4.23 and odis eng 7.72 on windows 7 23 bit, both VAS5054A bluetooth and usb connection works fine as long as you follow these tips
1.)When you install license, please choose the license for the software you are going to install
2.)ODIS 4.23 Available Now, but the language must be same with your computer system langauge,and one computer system,one language.
3.)Operating system:WIN 7 Pro
4.)Please close the anti-virus software and disconnect the internet when you install the software.
5.) pls dont update online directly.
Q3 : How to fix ODIS 4.23 on Window 7 32 bit popped up error ODS9006E : Infrastructure VW online connection. Mirror Server2 : The update required administrator rights,please log in as Administrator and perform update  problem ?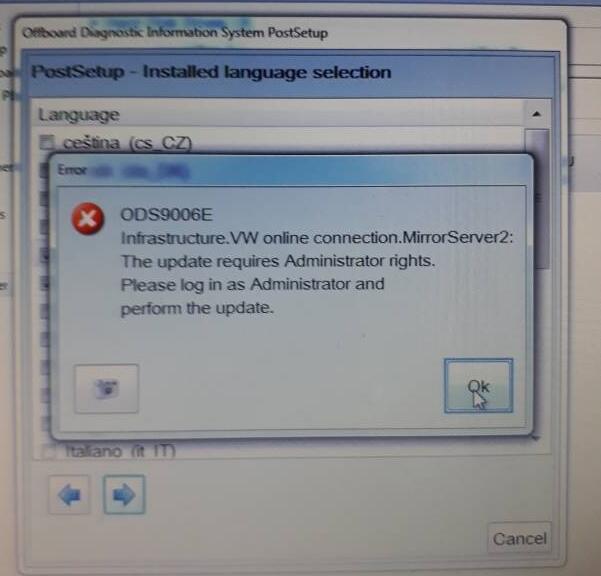 A3 : If you met this problem,then you can follow system suggestion and ran it as Administrator,then problem will be fixed.
Q4 : How to fix Setup unable to complete problem ?
A4 : Usually this problem was resulted from
1.not enough space on HDD
2.dont meet update requirements (Preprequisites)
3.corrupted download
Q5 : Where to buy VAS5054A Bluetooth with latest software ODIS 4.23 ?
A5 : personally suggest you can give http://www.autocardiag.com/ a shot, a reliable auto store to provide different kinds of auto products at a cheap affordable price.
24hour Online Customer Service:
E-mail:autocardiag@gmail.com
Skype:AutoDiag
Whatsapp:86-13667154167