2017 ETKA 7.5 VW/SEAT/SKODA/AUDI Electronic Parts Catalogue! Tested it working on Windows 7/8/10. Enjoy but try it on your own risk.
Free download link to V2017 ETKA 7.5 PLUS
ETKA 7.5 Updater+ ETKA 7.5 2017 (Germany+ International) part1-part 15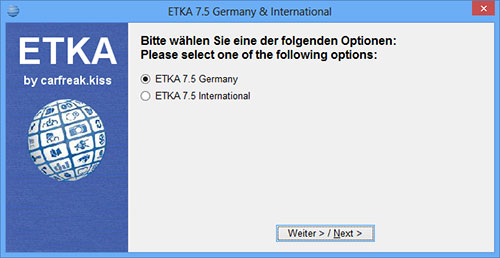 https://mega.nz/#F!0IlFER6Y!y7ASjGa6d9Bpm6emMTh_Rg
Password: mhhauto_XXL24_1uR81qQMy7sU110
ETKA 7.5 2016 Tested Safe and 100% Working + NO Need Activate (Windows XP 32bit)
Installation Instructions:
Download all ETKA 7.5 2017 (Germany+ International) part1-part 15.rar Files, extract it and start ETK75P_v2017.exe. The Installation Wizard will guide you through the installation.
Note:
Use WINRAR or 7-ZIP to decompress the Files or you'll get "Wrong Password" Error!
The Install Passwordis: 2017@by-carfreak.kiss (Not the archives password)
Please type in the password manually! The setup doesn't like Copy & Paste.
The install process continues with the necessary Hardlock Driver Installation.
The System will be restarted automatically.
Before you start ETKA, run the Patch ETK75P-PATCH-INT.EXE after installing ETKA 7.5 PLUS Germany/International.
Install the latest Updates – start ETKA updates V1.8.exe
Needed File in the attached link: ETKA 7.5 Updater.rar
Now 2017 ETKA 7.5 PLUS is ready!
Some users feedbacks on 2017 ETKA 7.5 PLUS
Tested it OK on Windows 7 Starter 32-bits! If hard lock is not working, you must run it as Admin.
Installed flawless in Windows 10×64, just can't do price update.
==================================
24hour Online Customer Service:
E-mail:autocardiag@gmail.com
Skype:Marshall.obd2
Whatsapp:86-13476108995
==================================