How to reset/add token off the CK100 key programmer as token limit reached? Follow the instruction below.
CK100 key programmer, the next update version of SBB key programmer, is a token required key programmer that can program keys via immo and read pin code. CK100 comes with 1024 tokens in default.
Token consume rate differs from vehicle to vehicle. The only way to add/reset token after used up is to replace the chip within the device. Because CK-100 doesn't support the tokens recharge online, you need to change the board to get new tokens after running out of the tokens.
You first need to order AT89C51CC03U NXP Fix Chip (Item No: SK117-S). The board including 1024 tokens, directly replace your old board with the new one, your CK-100 device will have 1024 tokens again.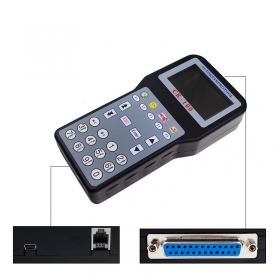 If you do not know how to replace the chip, you have another option to send back your CK-100 main unit to us. Our engineer will replace the chip for you.
NOTE:
The chip only works with CK-100, not work with SBB.
There are 4 versions of the CK100 and price keeps coming down.
The first version is the true working version CK100 V45.02. It covers most vehicles than other versions and it is the only CK100 version that works on Toyota G chip.
Second version is V45.06 which claims new cars added (Toyota corolla 2013, Acura Rex 07-12, Honda CRV07-13, Ford Edge 11-14)
Third version is V45.09. It works major car brands till 2014.09.
Last version is CK-100 V99.99 . It covers least car brands.
==================================
24hour Online Customer Service:
E-mail:autocardiag@gmail.com
Skype:Marshall.obd2
Whatsapp:86-13476108995
==================================