Referred to Red KESS 5.017,I belive,most tuners will not feel stranger, after all, Red PCB KESS 5.017 Ksuite 2.23 was the hottest and big-welcomed ECU Chip Tuning Tools For Multi cars trucks in 2017 -2018. KESS V2 5.017 Red PCB has been proved by many tuners and was regarded as one of the must have ECU flasher tool for tuners.
And today,Red KESS V5.017 Buying Guide For customers will be shared at Autocardiag.com official blog. The guide will mainly made up of Red KESS 5.017 up-to-dated news, KESS 5.017 With Red PCB purchase tips, Red KESS 5.017 vs Red KESS 5.028 and so on to presents more clearly and informative about KESS V2 Master Version Kits for buyers.
Red KESS V2 5.017 EU Promation News Sharing
$139USD Red KESS V2 5.017 For $99USD + DHL Free Shipping is available,right now,you can buy Online EU Red PCB KESS V2 5.017 Master with 4% OFF at autocardiag.com,see here : Cheap Red PCB KESS V2 5.017 Master For Sale

Red KESS V2 5.017 EU Master Purchase Tips
As many tuners have known,ther are two ways to flash ECU :  OBD2 communication port or via a special BDM port that is on the ECU's motherboard. For the time being, Red KESS 5.017 is the best OBD2 flasher tool to allow tuners to read and write ECU via OBD2 port directly, no need disassemble ECU from the car, easy to use. Red KESS V2 5.017 supports online 140+ protocols without tokens limited,no years limited and most important,it has been tested by many users and has been confirmed,kess 5.017 is a amazing chiptuning tool for multi cars and trucks.
Well, We also should know that ,there still have lots of ECUs can't be directly flash via obd2 port,in this case,you need use Red PCB KTAG 7.020, Red KTAG 7.020 is a top Bootmode tool you can program the ECU through one of the communication ports (BDM/JTAG) on the circuit board and it is perfect for all the ECU that need to be programmed with Jtag, BDM and Boot protocols,and the ktag with gpt cable to support gpt functions as well.
Purchase Tips Guide For Customers Summary : Well,Based on my sales experience as well as autocardiag.com customer's postive feedbacks,i strongly recommend customers buy Red PCB KESS 5.017 KTAG 7.020 + LED BDM Frame Full Set together, cuz, have both kess ktag in hand,you can flash more ecus and the led bdm frame was a ideal ecu dismporting assasistant tools ,what's more,this set was cheap but the quality is top.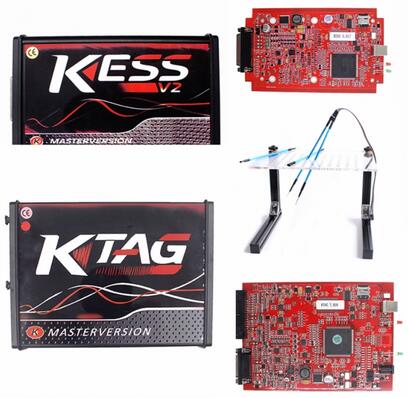 KESS 5.028 Ksuite 2.34 vs KESS 5.017 Ksuite 2.23
New Updated KESS V2 Master Version : KESS V5.028 incoming ! KESS 5.018 was updated from KESS 5.017,will added new features and functions, see the comparison below
1.Compared to KESS 5.017,KESS V5.028 used newer software and hardware.
2.Red KESS 5.017 Supports Online 140+ protocols, while the KESS v5.028 supports online 257 protocols .
3.5.028 KESS V2 Master added features and functions ,like
1.)Added work with Simos18 blocks released after summer 2015goda.
2.)Added work with Toyota on the protocol K-Line.
3.)Kess 5.028 works with the connected Internet and on the ID file itself communicates with the database and downloads the desired file to a folder on the PC.
4.)Partital virtual read support and with virtual server Toyota and Vag.
4.v5.017 Red KESS V2 Master was available and has been tested ,is a amazing tool, while the Red KESS V2 5.028 incoming and unavailable !
Summary :  Buy KESS 5.028 or Buy Red KESS 5.017 ? Well, For me,both of these two kits are appealling,then it mainly depends on your own purpose, if you dont care about waitting,then you can wait to buy New updated KESS V2 5.028 Master,as the new generation,it will be bound to bring new features and functions for you,you can check more details about KESS V2 5.028 Right here.If you dont want to wait,and right now, looking for a ECU Flash Tool For Multi cars,trucks,then there is no wonder, Red PCB KESS 5.017 Ksuite 2.23 is your best choice. After all, this tool has been tested and confirmed no matter in terms of features, functions,perfomrnace as well as price.
24hours customer service
E-mail:autocardiag@gmail.com
Skype:AutoDiag
Whatsapp:86-13667154167