FVDI V2015 is a well-known multi-function OBDII professional tools for univeral vehicles. Just as we have known,there are 2014v FVDI ABRITES Commander,2015 FVDI,and 2016 FVDI versions available in the marketplace,yet,by far,2015 FVDI Full Version was the most well-known and big welcomed version.FVDI V2015 Abrites Commander 18 in 1 Buyer's guide for customers will be available at autocardiag.com official blog, check it to get more details.
Q1 : What is the biggest different between FVDI V2015 and FVDI V2014,FVDI V2016 Full Version ?
A1 : FVDI V2015 and FVDI V2016 are almost same ,the only different between these two dongles lies in V2016 FVDI was the latest version,can support more newer car models. Compared to FVDI V2014 Abrites Commander, FVDI V2015 Full System comes with a soft dongle to allow doing special functions as well as online operation,while the 2014 FVDI didnt come with soft dongle and cant do special functions. And FVDI V2015 ABRITES Commander With 18 in 1 can support newer car models than 2014 version.
Q2 : What is the striking features of functions of FVDI V2015 Commander ?
A2 :  FVDI V2015 is a cost effective diagnose + programming tools for many brands of vehicles ,no only does it support OBDII functions,but also Special functions and the package comes with 18 activated software for VW,AUDI and so on multi cars,see official functions
FVDI v2015 Basic Function
1. Reading Pin code by OBDII
2. Programming keys by OBDII. Preparation of dealer's keys.
3. Mileage recalibration by OBDII
4. Clearing crash data DTCs by OBDII
5. Read/Program flash memory of engine control units by OBDII. Options for resetting the number of flashing attempts.
6. Exchange speed limit of MMI-TV system
7. Coding calculator – supported short/long coding
8. Synchronization/Adaptation KESSY and ELV
9. Operation Notes:
the recommended system:
1-Windows XP Professional Edition
2-Windows 7 Ultimate Editio
FVDI 2015 18 in 1 Special Function
1.1 For AUDI A6/Q7 key learning
1.2 For AUDI A6/Q7 VIN writing
1.3 For AUDI A4/A5/A6/A8/Q5/Q7 component protection
1.4 For AUDI A8, VW Touareg KESSY adaptation
1.5 VW MED17 EEPROM reading
1.6 B-MW CAS3, encrypted CAS3+ key learning
1.7 B-MW CAS3, encrypted CAS3+ mileage recalibration
1.8M-ercedes-B-enz mileage recalibration
1.9 B-WM CAS4 5M48h key Tool
1.10 Renault Key Learning for new model (2008~)
1.11 B-MW EGS synchronization
Q3 : How to use FVDI V2015 reading/writting MED17 EDC17 ?
A3 : FVDI V2015 Version supports ECU Programmer functions and following is a step by steps guide on how to use 2015 FVDI to flash MED17 EDC17
Step 1 : Connect wireless to assure your PC can work online. Then Connect your FVDI With PC,dongle, MEDC17 adapter like picture shows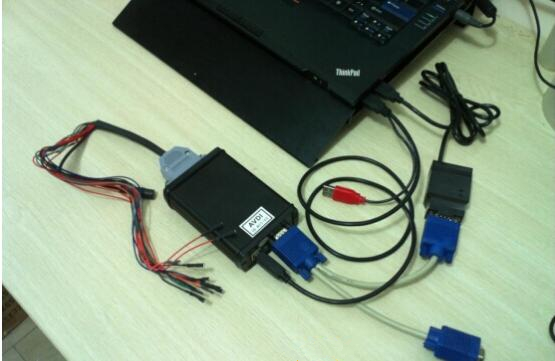 Step 2 : Diassemble MEDC17 ECU,uncover it.
Step 3 : Connect MEDC17 ECU under instructions.
Step 4 : Connect FVDI With PC,Open vag 18.0 and enter special functions. and select "EDC17/MED17" "Engine Control Unit ". Then Select correct MCU type and click "Connect", read what you want to read.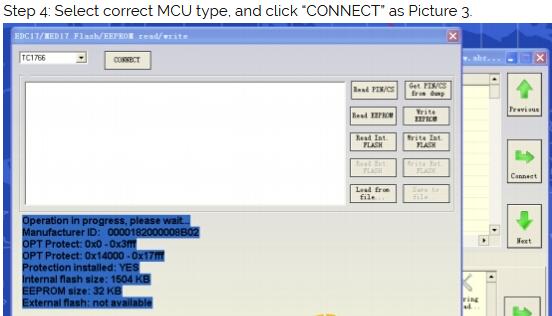 Step 5 : Assemble MEDC17 ECU and install it to vehicle.
Q4 : How to solve 2015 FVDI ABRITES Commander Reinstall Software Error ?
A4 : To fix this problem,you just need to reinstall your computer system,then the problem will be fixed.
Q5 : What's the 18 activated software included ? Should i pay addtional fee for these software ?
A5 : When you buy FVDI V2015 from autocardiag.com,the 18 activated software has included the package,so you dont need pay for any additional fee, see the 18 included software below
1. FVDI ABRITES Commander for Volkswagen, AoDii, S-koda, Seat, Freely Get: H-yundai, Kia + Tag Software + VVDI Immo Plus V13.6
1.1 FVDI ABRITES Commander for V-olkswagen, AoDii, S-koda, Seat
2. FVDI ABRITES Commander for M-ercedes-Ben-z, SMART, Maybach
3. FVDI ABRITES Commander for Bavarian Motor Works, MINI
4. FVDI ABRITES Commander for OPEL, VAUXHALL
5. FVDI ABRITES Commander for P-eugeot, C-itroen
6. FVDI ABRITES Commander for F-iat, Alfa, Lancia
7. FVDI ABRITES Commander for Renault
8. FVDI ABRITES Commander for Por-S-C-he
9. FVDI ABRITES Commander for Ni//ss//an, Infiniti
10. FVDI ABRITES Commander for T-oyota / L-exus
11. FVDI ABRITES Commander for Tag without fvdi & avdi host
12. FVDI ABRITES Commander for Tag with fvdi & avdi host
13. FVDI ABRITES Commander for V-olvo
14. FVDI ABRITES Commander for F-ORD, M-AZDA, J-AGUAR, LAN-ROVER, MERCURY, LINCOLN: F-ord, M-azda, J-aguar, Land aaaaa Rover, Mercury, Lincoln
15. FVDI ABRITES Commander for Chrysler, Dodge and J-eep
16. FVDI ABRITES Commander for M-itsubishi
17. FVDI ABRITES Commander for DAF
18. FVDI ABRITES Commander for Bike, Snowmobiles and Water scooters
Pls pay attention to autocardiag.com and we will keep updating FVDI FAQs for customers .Or if you have any questions or doubts about FVDI V2015 Full Version,pls dont hesistant to contact us by following method
24hour Online Customer Service:
E-mail:Autocardiag@gmail.com
Skype:AutoDiag
Whatsapp:86-13667154167