MB Star C4 Connect with xentry software for Mercedes benz car and trucks diagnostics and programming. One of customer have order single SD Connect C4 mux hardware without xentry diagnostics software and laptop, work with the 2017.05 Xentry Mercedes diagnostic software working well. Below share SD Connect C4 review.
Mention Star Diagnosis sds C4 mux, it seems that there's a lot of different manufacturers and quality levels of multiplexer clones.
Here's the one I went with, however I didn't bother with the HDD/software they included or a dell D630 laptop. I have a background in computers, so I set myself up a vmware virtual machine and installed all the software with the (occasionally somewhat difficult to follow) information on mhhauto. I have heard of people having problems using VMware, but I didn't experience any myself.
As for the hardware itself, mine is of decent quality sd connect c4 from eobdtool.com .
I have no real complaints with it other than it losing it's WiFi configuration once drained of battery (which happens quickly, but it's not really an issue since it draws power from OBD when connected), but I prefer using a cable connection anyway.
P.S I will warn you that if you're not very familiar with computers/configuring software/some basic computer networking (IP address assignments, etc), you might have a hard time getting everything to work. Definitely look into the details of getting everything set up before buying.
I wish there were a complete and total guide to setting up everything (go to last part for details).
Getting everything working properly took quite a lot of reading and searching, and a couple of days of tinkering.
Patience is a plus.. if I had to compare this to something else in terms of difficulty (computer-wise), I'd say it's similar to setting up a microsoft exchange server without errors.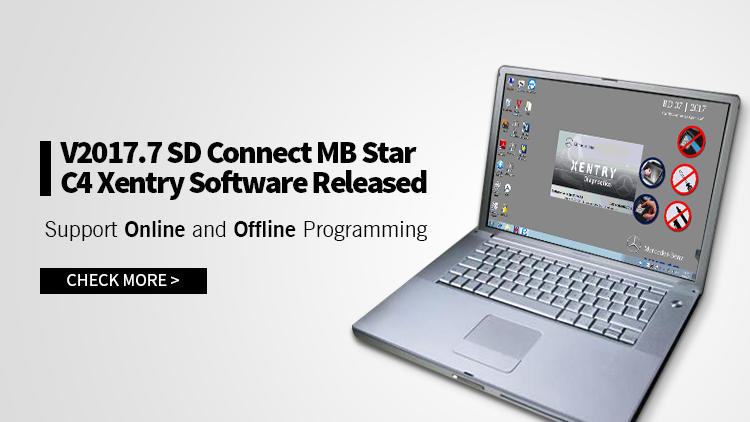 autocardiag.com have computer installed xentry diagnostics all configuration finished, and IP address setup, when you got it no need activate xentry, and set up wireless connection, just plug into car and laptop ready to us. I have recommend one of my friend order it. Everything working properly.
That's all our customer share experience for MB SD Connect C4 from us, more detail about MB Star C4 with Xentry diagnostics Vediamo and Monaco software just let me know freely.
==============================
E-mail:autocardiag@gmail.com
Skype:AutoDiag
Whatsapp:86-13667154167
Website : www.autocardiag.com
==============================