Red PCB KESS V2 5.017 Europe Version, FGTech 0475 Galletto V54 and KESS 5.028 are three ECU Flash Tools via OBD2 communication port. And today, The comparison between Red KESS 5.017 ,KESS V5.028  and Fgtech FW0475 will be introducted and presented in autocardiag.com official blog to share with all buyers.
Red KESS 5.017 vs Red KESS 5.028
Just as the name suggested,both KESS 5.017 and KESS FW5.028 are belonged to same KESS V2 Master family. The KESS V2 5.028 is the new generation of KESS V5.017,based on KESS FW5.017,see comparison pictures below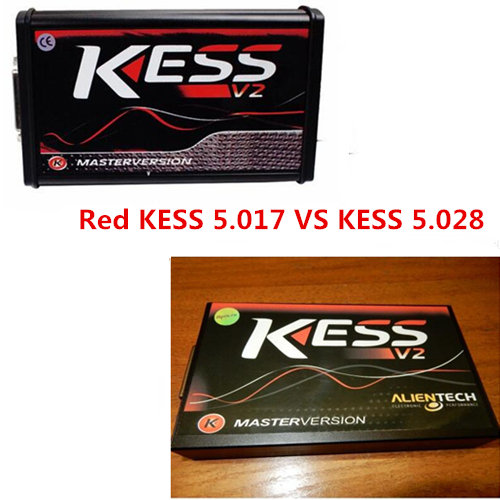 As we have seen, these two KESS V2 Master Kits shared almost same appearance,features and functions,the different between them mainly in following
1.KESS 5.028 Ksuite 2.34 can support more cars,trucks models,now can support online 258 protocols .
2.Used newer software v2.34 and firmware v2.23 than KESS 5.017.
3.Added new features and functions,like partital virtual read supporting,works with the connected Internet and on the ID file itself communicates with the database and downloads the desired file to a folder on the PC and so on.
4. Red KESS 5.017 Ksuite 2.23 has launched for ages,while the New KESS FW5.028 Incoming !
KESS 5.028 vs KESS 5.017 Red PCB vs FGTech V54 0475
FGTech 0475 is the newest generation ECU Programmer of FGTech V54 Galletto for all cars , trucks , motorcycles,Marine,BDM MPCxx,BDM Boot Mode,checksum.FGTECH FW0475 ECU Progreammer can commuciate via OBD II and BDM, supports online operation,without tokens limited and so on.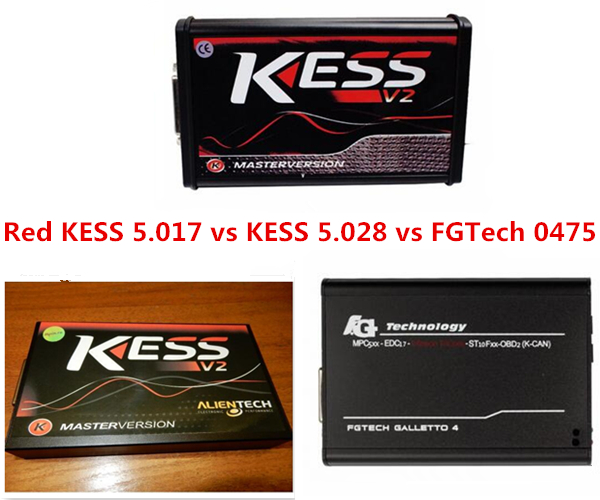 The different between Red PCB KESS 5.017 EU and FGTECH FW0475  mainly in following
1. KESS 5.017 is flash ECU via OBDII port,while the FGTech V54 can commuciate via OBD II and BDM.
2. KESS is maily for cars, while FGTECH 0475 ECU Progreammer also supports otorcycles,Marine,BDM MPCxx,BDM Boot Mode,checksum.
3.kess 5.017 can work on multi operation system then fgtech 0475 europe version.
4.Fgtech 0475 price is cheaper than Red KESS 5.017.
5.Red KESS V2 5.017 use imported PCB and more powerful.
6. KESS 5.017,FGTech V54 0475 has launched for ages,the kess 5.028 was unavailable by far.
7. KESS 5.028 can support more online car models than kess 5.017 fgtech 0475.
Red KESS 5.017 vs KESS V5.028 vs Fgtech FW0475 Honest Reviews !
Well, If you are looking for a cheapest ECU Chip Tuning Tool,then buy Fgtech FW0475 will be your best choice. This is the cheapest ECU Programmer by far, the features and functions have been tested,100% workable. But if you are looking for a professiona and best ECU Flash Tool and have to make a choice between kess 5.017 and kess 5.028,then here is my suggestion for you :If you dont mind waitting ,then you can wait to buy kess 5.028,after all,KESS v2 5.028 master is the newest version, will be more powerful and appealling.But for me ,i will strongly recommend you buy Red PCB kess 5.028 ,because,this is the hottest KESS V2 Master Kit,launched for ages,tested by many users,received many good feedbacks for quality, performance, features as well as price.
24hours customer service
E-mail:autocardiag@gmail.com
Skype:AutoDiag
Whatsapp:86-13667154167