As the most popular ECU Chip Tuning Tool For OBDII Programming, Red PCB KESS 5.017 has became a well-known ECU Programmer among tuners. Red KESS 5.017 has a attractive appearance,powerful features and functions and the price is decent too,and both of these reasons to make KESS 5.017 With Red PCB EU stand out in the marketplace with a good reputation.
Following are two news about Online EU Red PCB KESS V2 5.017
1.Red KESS 5.017 EU 2nd generation available for sale now. The new generation of red kess 5.017 ksuite 2.23 added a buzzer on the pcb to make it more stable to use,excepted this,the newest reworked red kess kept all features and functions as the first generation.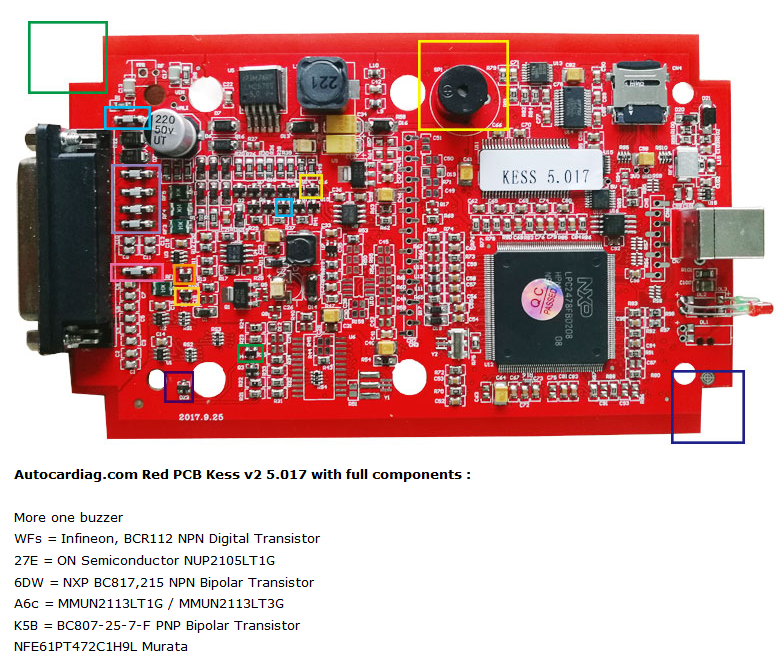 2. Red PCB KESS 5.017 Ksuite 2.23 Flash Deals,only $159USD + Free DHL  is available at autocardiag.com, now you can buy Red KESS V5.017 to enjoy 6% off Right Here .
Things customers should know about KESS V2 5.017 EU Red PCB
1.It is a clone one but with original database and great performance and have a same look as the original one.
2. Red EU KESS FW5.017 supports online operation,but pls dont update your firmware online directly,which maybe lead to your kess 5.017 red out of work.
3. Pls close your anti-virus software before using.
4.You can use the kess on any operation system with multi-languages.
5.The package didnt come with USB Dongle.
Red EU KESS 5.017 Ksuite 2.23 Pros and Cons
The Advantages
Attractive apperance ,with same packaging as the original one.
Used top quality reworked PCB and new LPC2478 NXP Chip + Newer sd card + 3D Sticker.
Using imported Japanese Murata filter NFE61PT472C1H9L.
Online operation supported,you dont need to disconnect network.
Supports online 140+ protocols without tokens limited.
2nd generation, more stable to use, and have been tested by many users,100% workable.
Multi-languages supported and can work on many operation system,like Window 7/X…
Cheap Affordable price.
Easy to use,best recommended for OBDII using.
The Disadvantage
it is clone one,not original,but the quality is top and can work perfect as the original one and the price is cheapers than original one.
Not supports all vehicles ( I belive,the next generation will support more ECUs).
Online Master Red KESS 5.017 EU Customers's 100% Tested OK Feedback like below
Berlingo 9HX :
only read ID from engine and works ok
PSA Bosch EDC 16 :
read ok
Skoda Octavia 1.9 AXR EDC15 :
read ok
BMW EDC17CP02:
OBD write ok
BMW EDC15 :
OBD read/write ok
Ford Mondeo SID206:
read/write ok
VW EDC17CP14 :
read/write with tricore module
2008 Sprinters with Edc16:
no issues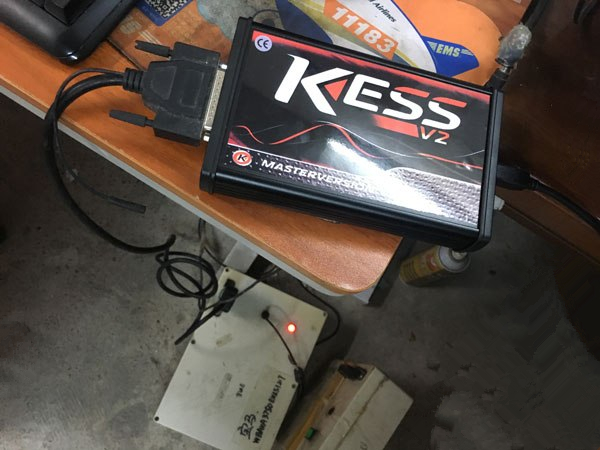 24hour Online Customer Service:
E-mail:Autocardiag@gmail.com
Skype:AutoDiag
Whatsapp:86-13667154167