MultiDiag 2015 Pro plus (Pro+)=CDP plus Delphi DS150E
MultiDiag 2015 Pro plus (Pro+) is the professional vehicle diagnostic interface, it will offer diagnostic service solutions for vehicle electronic, MultiDiag Pro+ is a quick and reliable vehicle diagnostic tool serving as a link between vehicle and computer.
Bluetooth MultiDiag Pro+ with Flight Recorder, MultiDiag Pro plus also is an Auto power Adapter for Vehicle Diagnosis, it has the same vehicle diagnosis function with CDP plus and Delphi DS150E(New VCI).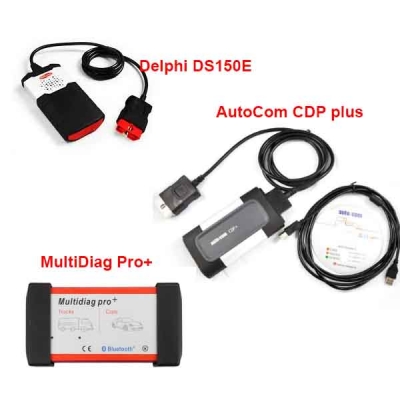 Multdiag Pro 2015 USB Version Single PCB For Trucks and Cars:
http://www.autocardiag.com/multidiag-pro-201503-usb-version-single-pcb-for-trucks-and-cars-p-738.html
2015 MultiDiag Pro plus( Pro+ ):
Flight Recorder
Multi Colour Indicator
Connector With LED
Real time function
Universal for cars & trucks
Software version: 2014.Release 3 / 2015.Release 1
Vehicle coverage:
For cars and light vans from 1988 onwards, a total of 47 different brands.
For light and heavy commercial vehicles, buses and trailers from 1995 onwards, a total of 37 different brands.
MultiDiag 2015 Pro software Supported Languages:
English, Cesky, Dansk, Deutsch, Espanol, Francais, Greek, Hollands, Hungarian, Italiano, Norsk, Polish,  Romania, Russian Srpski, Suomen kieli,  Svenska, Turkish…
Optional:
1: China Factory Design MultiDiag Pro: Bluetooth or Not (Double PCB Board)
2:Original Factory Design MultiDiag Pro: Bluetooth or Not (Single PCB Board)
Specification
2015 MultiDiag Pro used with a PC or Pocket PC, with 2014 Release 2 MultiDiag Pro is powerful car & truck & Generic Diagnostic software, MultiDiag Pro is an powerful and flexible tool for all vehicle shops, fleet owners, vehicle testing, road service, police and armed forces.
1. 2015 MultiDiag Pro+ is a quick and reliable diagnostic tool serving as a link between vehicle and computer. It works on both old and new vehicles.
2. Simply connect MultiDiag Pro+ to the diagnostic socket in the vehicle and it will communicate with the diagnostic software installed on your PC.
3. With CARS, you are able to perform brand specific diagnostics for cars and light vans from 1988 onwards. A total of 47 different brands. With TRUCKS software package, you are able to perform brand specific diagnostics for light and heavy commercial vehicles, buses and trailers from 1995 onwards.
4. A total of 37 different brands. The diagnostic program GENERIC is designed for the legislation based diagnostics, specially targeted for emission related fault codes.
5. GENERIC is included in CARS and TRUCKS packages. Multiplexer function, 2xHS CAN (ISO 11898-2), SW CAN (SAE J2411), K/L (ISO 9141-2), VPW (J1850), PWM (J1850), RS485 (J1708), TTL and (SPI, analog in, 5volt out)
==================================
24hour Online Customer Service:
E-mail:autocardiag@gmail.com
Skype:Marshall.obd2
Whatsapp:86-13476108995
==================================