New Generation XPROG BOX ECU Programmer,called Xprog 5.72 XPROG-M 5.72 EURO Version For Sale Now ! This is the latest ECU Programmer introducted for univeral car models. And Xprog 5.72 buyer's guide on XPROG-M EURO Version Pros and Cons will be presented in autocardiag.com official blog,maybe it will be help customers to better know about XPROG-M  5.72  BOX ECU Programmer.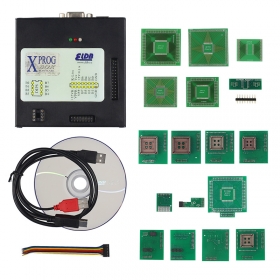 Xprog 5.72 ECU Programmer EURO Version Pros and Cons
The Pros
EURO VERSION!!NOT CLONE FROM CHINA CLONE!!!
Our X-prog 5.7.2 tested and 100% working!
No USB Dongle,No need activate or keygen!
Directly use and can be connect with internet!!!
Multi car models supported without years limited.
Connection:By Chips board connection.
Added new Authorizations.
No PC numbers limited
handheld with great quality
The Cons
High request to your pc:
A Quad-core processor
B ONLY works with WIN7 64 bits
2 Cannot update via internet,we will send you software update link in future free.
3 Must be installed on the virtual machine
4.Only English languages available
As we have seen,the features of New XPROG 5.72 is appealling and the pros over than cons,so IMO,it will be a ideal ECU Programmer Tools.