wiTech MicroPod 2 for Chrysler Diagnosis and Programming
chrysler witech micropod ii Kit is replacement of witech vci pod clone. Chrysler VCI Micro Pod 2 with V17.04.27 Mopar micropod 2 software. New chrysler witech micropod ii For Chrysler Jeep Dodge fiat Support Chrysler and Fiat online and offline programming.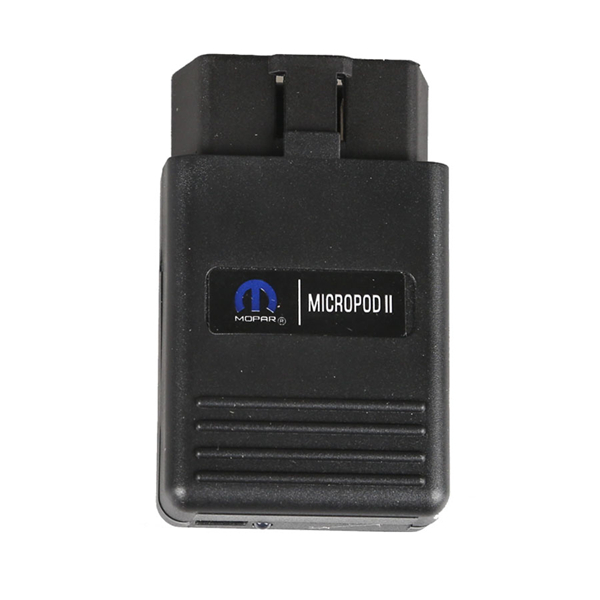 1. Latest Software: V17.04.27
2. Multi-Language: English, French, Spanish, German, Italian, Russian, Japanese, Korean and Chinese
3. PC-Based: Requires PC connection
4. Must connect to network to work, otherwise will prompt you to activate software.
5. Operating System: Windows XP/Windows 7
Using Tips (Important): Network connection needed.
First connect MicroPodII to vehicle, if the red indicator turns on, then connect to laptop and run software.
wiTECH MicroPOD2 features:
* Supports all the latest technologies and vehicle platforms including the latest Chrysler and Fiat Vehicles.
* Works as a direct replacement for the wiTECH POD.
wiTECH MicroPOD 2 model year coverage:
Although small in stature, this dongle-style device offers 100% CAN – equipped coverage to 2016 for Chrysler, Dodge, Jeep, and Fiat vehicle platforms.
Free Download wiTech MicroPod 2 V17.04.27 Software 
https://mega.nz/#!Nm5QRQYR!fVPAE7SNtYa2iE5eqQaZ1zyW7A1nh94-vPGpK1Iu3lg
==================================
24hour Online Customer Service:
E-mail:autocardiag@gmail.com
Skype:Marshall.obd2
Whatsapp:86-13476108995
http://www.autocardiag.com
==================================