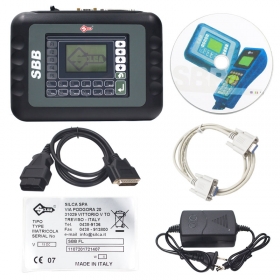 SBB v46.02 AND SBB V33.02 KEY PROGRAMMER
1. SBB v46.02 add more newer cars such as for Acura 2012, For Chevrolet 2013, For GMC 2013..
SBB V33.02 can only support some cars untill 2011
2. SBB 46.02 Add rs232 cable ,can support firmware update.
SBB V33.02 can not support firmware update .
Multi-Languages:Italian/German/French /English /Spanish /Greek /Portuguese /Turkish /Russian
Language:Italian,German,French,English,Spanish,Greek,Portuguese,Turkish,Russian
Vehicle List:
CHRYSLER-CAN-BUS
CHRYSLER-GROUP
CITROEN
DAEWOO
FIAT
FNT02
FNT02-USA
FNT03
FNT04
FORD-AUSTRALIA
FORD-AUSTRALIA-CB
FORD-EUROPE
FORD-GROUP-CB-LO
FORD-GROUP-CB-L1
FORD-GROUP-CB-L2
GM JEEP CHRYSLER
HONDA-EUROPE
HONDA-USA
HYUNDAI
KIA
LAND ROVER RKE
MITSUBISHI
NISSAN
OPEL
OPEL RKE CAN-BUS
PEUGEOT
RENAULT-CAN-BUS
ROVER-RKE
SUBARU
SUZUKI
TOYOTA-LEXUS-USA
TOYOTA-LEXUS-USA-RKE
VAG
Feature and Function:
1, read car key from immobilizer's memory
2, remote controller programming
SBB v46.02 Key Programmer is a universal key programmer for programming multi brands car keys in immobilizer
Due to its integrated hardware and full database Software containing all the most important vehicle makes .
It support new cars like For Ford 2010 and Hummer.
SBB key programmer copies chip according to car model, and it programs key not clones key, you only needs to insert SBB 16-pin interface into your car OBD2 diagnostic seat, then read out immobilizer pin code from immobilizer dump/EEPROM of the car before writing it into new blank key. When programming For Ford vehicle, it does not need pin code.
==================================
24hour Online Customer Service:
E-mail:autocardiag@gmail.com
Skype:Marshall.obd2
Whatsapp:86-13476108995
http://www.autocardiag.com
==================================