Consult-III Introduction
Just as the name suggested, Consult 3 III is a handheld OBDII Diagnostic tool that specially designed for almost all Nissan car model from different regions including Japan,North America, Europe. Nissan Consult 3 was connected via OBDII port and has a stable bluetooth connection ,will be ideal tool recommended for Nissan car owners for home Diagnose.
And following is a Nissan Consult 3 III Professional Diagnostic Tool Review for customers
The Full  Package You Will Receive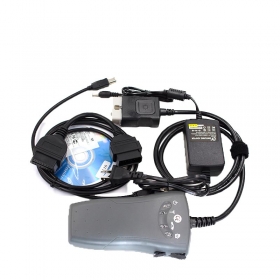 Just as you have seen,the package contains 1pc x Nissan Consult 3 Main Unit ,1pc x OBD2 Cable,1pc x USB Bluetooth Adaptor,
1pc x Power Adapter and 1pc x CD.
Nissan Consult 3 Specification
Supported Car Models : For Nissan 1996-2011
Languages : English/ Finnish/ French/ German/ Russian/ Greek/ Italian/ Japanese/ Spanish/ Chinese(Traditional)/ Chinese(Simplified)
Functions : Diagnostic interface
Connection : By OBD2.
Computer requirements : Windows XP (SP2) or Windows XP (SP3)
Things Customers Should Know About Nissan Consult 3 Professional Diagnostic Tool
1.The diagnostics tool is equipped with various functions including simultaneous self-diagnosis of an entire system, simultaneous data monitor for multiple systems, data recorder, and oscilloscope capability.
2.Added color-screen and large-screen monitor allow viewing of large amounts of information altogether for enhanced data management.
3.Package contains USB Bluetooth Adaptor to support Bluetooth Connection and Consult 3 also supports WIFI.
4.Build in high speed update system and Computerized On-Board System Universal Tester.
5.Nissan Consult 3 VI Registert Password: nissanconsult3 and the Bluetooth Communication Distance: Radius of 5m Approx.
 Consult 3 For Nissan FAQs Guide For Buyers
Q1: What does this item can do and can not do?
A1: Nissan counsult III has two model.MI and VI,VI is for diagnose and MI is for waveforms test.Our nissan counsult III can realize the function of VI model but can not do MI model.
Q2 : How does Consult III do Automated Self-Diagnostics ?
A2 : The system is able to perform accurate diagnosis without having to rely on the diagnostic skills of technical staff at the dealership. Increased efficiency in operations based on wireless technology.With wireless vehicle communication interface, it is possible to check the condition of the vehicle from either inside or outside the vehicle. At dealerships in Japan, it is possible to access the Nissan network to retrieve both the maintenance technology data related to the diagnosis results and spot adequate information on service manual. The dealerships are also able to access their service database and refer to the vehicle's maintenance history on the laptop PC.
Q3 : How to solve Nissan Consult 3 III Professional Diagnostic Tool Power Light Off ?
A3 : This is the problem of the R200 resistance. You can change the R200 resistance. Then connect the Nissan Consult 3 interface with the car to try again.
Q4 : Should i buy Consult III Bluetooth OR Consult 3 USB Version ?
A4 : It mainly depends on your own purpose, but personally will strongly recommend you buy Bluetooth Nassian Consult III Professional Diagnostic Tool.
E-mail:Autocardiag@gmail.com
Skype:AutoDiag
Whatsapp:86-13667154167